Price Gap: What's for Sale vs. What Buyers Want
Blog posted On July 23, 2019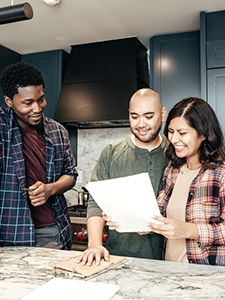 Mortgage rates may be on a downward trend, but home buyers in many metros are still facing out of budget home prices. Researchers at Realtor.com found half of today's home shoppers are expecting to purchase a property under $288,000. Unfortunately, that's 9.1% or $27,000 lower than the median sales price of homes on the market. In order to bridge that price gap, Realtor.com estimates the market needs roughly 94,000 more homes priced between $100,000 and $340,000, a 15% inventory increase on a market already starved of inventory.
One of the cities with the most significant discrepancy between the median list price and median closing price is Cincinnati. With the median list price at $275,045 and the median closing price at $215,000, buyers are paying nearly 22% less than what sellers are looking for. Other metros with significant discrepancies are Houston, followed by Minneapolis and Indianapolis. Around the country, homes sold in April were sold on average 15% below the asking price. Realtor.com chief economist, Danielle Hale, explained, "The price differences between what buyers are searching for, closing on, and what's available on the market demonstrates just how big the gap is for entry-level home buyers." With some home sellers unwilling to budge on asking prices, homes are staying on the market longer, despite record-low mortgage rates.
Among the issues facing today's entry level home shoppers (Millennials), is that Baby Boomers are looking for many of the same things in homes but have much higher budgets. As they age into retirement, many Baby Boomers prefer the amenities and entertainment of big city life over the far-flung suburbs where they raised their families. Millennials, many of whom also favor the walkability of city living, are looking in many of the same zip codes as Baby Boomers. Baby Boomers are working with larger budgets, with many being current or previous homeowners, giving them a bidding advantage over student debt-laden Millennials and pricing them out of the market.
First-time home buyers should not be discouraged. There are numerous down payment assistance programs and loan options that are designed to help first-time home buyers. A larger down payment or quicker transaction time could be the extra edge you need to get your offer accepted. Platforms like HomeFundIt allow home buyers to increase their down payment through crowdfunded contributions from family and friends. Working with a direct lender with localized underwriting allows you to expedite your mortgage transaction. Many home sellers are simultaneously looking to buy a home, and a faster mortgage transaction may fit better with their timeline.
If you're ready to buy a home this year, or just starting to look, let me know. We can plan ahead and set you up for a successful transaction.
Sources: MarketWatch, Mortgage Bankers Association