Freddie Mac: 70,000 Homes With ADUs Sold in 2019
Blog posted On August 18, 2020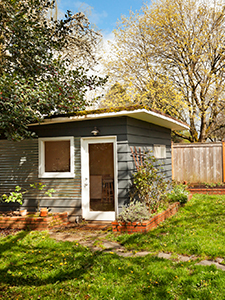 Accessory dwelling units or ADUs is a separate, detached, dwelling located on the same lot as a single-family home. Sometimes called "granny flats" or "guest homes," ADUs are becoming more popular, according to research from Freddie Mac. Currently, there are 1.4 million reported single-family homes with ADUs out of an MLS listing of 600 million. The actual figure may even be higher, since it could include ADUs added without a permit.
Homeowners may choose to add an ADU to their property for a number of reasons. Some may choose to rent the ADU to a family member or tenant to either keep family close or earn passive income. With the coronavirus pandemic changing the way we live and work, ADUs may become even more popular as a way for families to live close but still separate, to keep older adults out of long-term care facilities, or to give college students some independence while they continue classes remotely. ADUs can also be an opportunity for the homeowner to earn rental income by renting the unit as a short-term or vacation rental or leasing traditionally to a long-term tenant.
From 2000 to 2019, the number of properties sold with an ADU increased from 8,000 to 70,000 In 2019, 8,000 of these ADUs were leased to tenants, giving the homeowner an additional source of income. This data does not include any non-permitted ADUs that may exist. In some areas hurt by lack of affordable housing, many homes have illegal ADUs. In three Los Angeles neighborhoods with a high foreclosure rate, 34% to 80% of single-family homes were likely to have an illegal ADU.
Before you buy a home with an ADU or add an ADU to your existing home, it's important to make sure everything is legal. Some homeowners' associations may not allow ADUs on the properties in their neighborhood. If you are buying a home with an ADU, make sure it was legally installed and everything is up to code. Otherwise, you may have to invest in renovating the ADU before anyone lives there. If you are building an ADU on your current property, work with a licensed contractor to make sure you follow all local and state laws and get the proper permits. When you sell your home later, your properly permitted ADU will add value to the home and attract buyers who may be interested in renting it out or living separately with extended family.
If you have any questions about buying a home with an ADU or adding an ADU to your property, talk with a loan officer. We'll work with you to find the right financing option to support this growing trend.
Sources: HousingWire, Investopedia