Should You Build a New Home or Renovate a Fixer-Upper?
Blog posted On September 24, 2020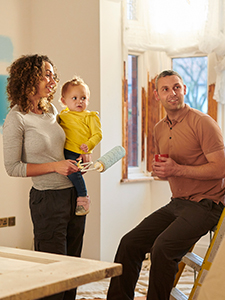 Average mortgage rates have reached historic lows, giving many prospective buyers an added incentive to purchase now. However, if you're one of many people on the hunt for a new home, you're likely going to face stiff competition, limited options, and higher home prices. To navigate the challenges of the current housing market, you may want to consider these alternatives to buying a move-in ready home: building a new home or renovating a fixer upper. Both are viable options, but here are some pros and cons of both to help determine which is best for you.
When You Build a New Home
Building a new home gives you the opportunity to get everything you want. From floor plans to front doors, every feature in your house is designed for you. Plus, you are the first owner to live there— no squeaky floorboards or drafty windows. Every appliance in the house will be brand new and you won't need to worry about upgrades for a while. Customization and construction of your home may cost more upfront, but the up-to-date features may save you more in the future by postponing the need for repairs and saving costs on utility bills with modern, energy-efficient features.
Whatever money you save on initial repairs might need to be put toward landscaping. New construction rarely includes landscaping, which is a key feature for many homes to help ease noise and air conditioning costs. Landscaping can cost thousands of dollars, but can also help cut air conditioning costs by 50%.
If you choose to build a new home rather than renovate an existing home, you won't be moving in until the home is complete, whereas with a fixer upper you may be able to move in right away, as long as you don't mind living in the home while you complete renovations. Finding the right plot of land could also lengthen your building timeline. Building can give you exactly what you want in a house, but it may prevent you from getting it exactly where you want it. Most buildable land near larger cities like Los Angeles or New York has already been developed, leaving limited options for home builders. If you're looking for a new plot of land where you can build your home, you most likely are looking farther away from city centers and potentially face a longer commute to work, school, or other necessities.
When You Renovate a Fixer Upper
Buying a fixer upper can provide more location options and more price flexibility. For new construction, home builders typically give an estimate that won't change unless you alter your design. With the purchase and renovation of an existing home, you can negotiate the price with the seller based on various home features. Once you close on the home you can move in right away and choose to renovate over a period of time, rather than having to wait for a house to be built before moving in. Renovating a fixer upper is also good way to make a profit by buying the house below market value and then selling it for more than you paid. Depending on the trending prices of homes in the area, the house is likely to appreciate over time.
However, a fixer upper is no walk in the park. You're probably going to be doing most of the work yourself and for larger jobs you'll have to pay to hire professional contractors. Moreover, the financial bottom for renovation is uncertain, so you'll have to budget room for complications.
Luckily, there are options that can help you finance your fixer upper, like a renovation loan. Unlike a traditional mortgage, which would require you to pay for renovations with cash, credit, or a personal loan, a renovation loan finances the cost of the mortgage and the renovation into one single payment with a lower interest rate than a personal loan or credit card. This can help expand your remodel budget and allow you more freedom in your fixer upper project.
Renovating a fixer upper and building a new home are both great options for upgrading your home without searching for a new place in the highly competitive market. If you'd like to discuss your options, let us know.
Sources: MarketWatch, Realtor.com, Trulia