Leave the Leaves Out: Protect Your Gutter This Fall
Blog posted On November 04, 2020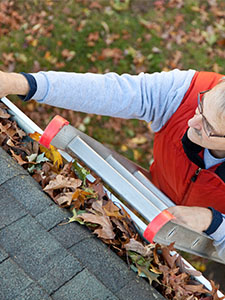 When fall started, you were ready. You picked out the pumpkins. You baked an apple pie. You even broke out your favorite mustard-colored cardigan (only to sweat through it in 80-degree weather by the afternoon). But as the leaves start to fall, you might be realizing that you're not as prepared as you thought.
Cleaning up leaves is one of the lesser enjoyable parts of owning a home. It seems like the whole fall season is a cycle of endless lawn care: rake, bag, and repeat. Your lawn might be the most noticeable cemetery for dead foliage, but another problematic graveyard is your gutter.
Gutters are an important part of your roof that help drain rainwater away from your home. This drainage system prevents water damage caused by puddling near the foundation of your home. Leaves are one of the most common issues that clog up gutters and cause water puddling. One way to prevent clogged gutters is cleaning them regularly. But climbing on your roof every week is neither safe nor convenient.
An alternative option for gutter clog prevention is gutter guards. To help guide you through the gutter guard process, here are three questions to consider.
Do you need a gutter guard?
Determining if you need a gutter guard may depend on your home's roof, location, and maintenance. Eamon Lynch, director of warranty service at Power Home Remodeling says that gutter guards "are not very helpful for steeply pitched roofs, because water naturally splashes off of them due to their sharp angle." However, low pitched roofs might not benefit from roof guards either. If a guard enables too much debris to stay in the gutter, it can prevent water from being able to drain off the roof and can cause leakage.
Furthermore, just because your property is populated with trees doesn't necessarily mean that a gutter guard would be worth the investment. If you live in a location that doesn't see much rainfall, then it may not be beneficial to invest in a gutter guard.
If you do live in an area where leaves and debris accumulate in your gutter, you still may not need a gutter guard. "If you commit to cleaning your gutters once a year, you watch out for debris that easily finds its way onto your roof, and you ensure your gutters are always clear, then you probably don't need to invest in gutter guards," says Lynch. Guards may not be necessary, but they can save you maintenance time.
What type of gutter guard should I get?
If you do decide that you want to spend less time cleaning gutters and more time carving pumpkins, then you have a few different gutter guards to choose from. Again, picking the right type depends on your roof style and home location.
If your home is surrounded by tall trees, avoid perforated guards, such as screen guards. Screen guards will keep large debris like leaves from clogging your gutter, but not the smaller debris like pine needles. Though less effective for smaller debris, screen guards are the easiest and most affordable type of gutter guard to install.
Mesh guards are a better option for preventing small debris from entering your gutter – perfect if you have trees overhanging your house. They prevent leaves, pine needles, shingle granules, and other small debris from clogging your gutter while allowing continuous water flow. Plus, they are relatively easy to install.
A third option for gutter guards is reverse curve gutter guards. This type of guard is a non-perforated guard that is placed on top of your gutter and allows water to flow on top and drip into the gutter below while keeping large debris out. However, this type of gutter guard can get dirty quickly.
Should I install it myself or hire a professional?
Once you've decided on the best gutter guard for your roof, it's time to set it up. Some are easier to install than others, like the drop-in style gutter guards that are simply dropped into your gutter. Tension guards are also easy to install because they don't need to be screwed in. Before installing your gutter guard, make sure your gutters are cleaned, damage-free, and tightly fastened.
Gutter guards that sit on top of the gutter are harder to install because they have to be perfectly level and drilled in correctly. These types of guards are definitely better left for professional installation.
Before installing any type of gutter guard, it's best to consult a professional for more advice on which guard to choose and what is the best option for safe installment.
Installing a gutter guard is a great way to protect your home and maybe even attract more buyers. Home maintenance is key when looking to sell. Water damage is a serious issue, and it's important to do everything you can to avoid it. When searching for a home to buy, look for well-maintained homes and beware of water damage.
The weather may be cooling down, but the housing market isn't. Apply for loan prequalification online today and enjoy a pumpkin spiced latte under a roof of your own!