What You Should Know About Buying a Second Home
Blog posted On August 13, 2020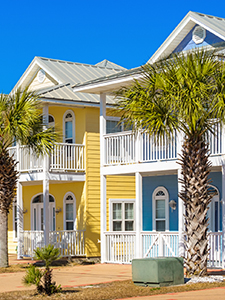 With many Americans flocking to far-flung regions to escape coronavirus clusters, the second-home market is seeing a sales surge. To accommodate social distancing guidelines, many city and suburb dwellers are looking into vacation homes or moving away entirely.
Buying a second home or vacation home makes sense if you've considered all of the costs and can afford to make two mortgage payments, or if you've already paid off your current home and can afford taking on a new mortgage. You can save money on the cost of lodging when you travel and also rent the home out when you are not using it.
Before you buy a vacation home, take these four steps.
Talk with a mortgage lender
If you're going to finance your second home purchase with a mortgage, the earlier you talk to a loan officer the better. Let them know your plans, what you're going to use for the down payment, and whether or not you already have a mortgage. If you currently have a mortgage on your current home, make sure you can afford two mortgage payments including the principal, interest, taxes, and any insurance. If you fully own your home (congratulations!), make sure you are financially prepared to start paying a mortgage again.
Find a local real estate agent
Hire a real estate agent that works in the area where you would like to buy your home. Even if you have a preferred agent you work with nearby, they may not be familiar with the market where you are looking to buy. You can still ask them for a referral or if they know anybody in your desired market, but it's imperative to work with a local agent who knows the area, is familiar with market trends, and can take care of paperwork and setting up tours for you.
Consider all the costs
In addition to the mortgage payment, there may be other costs associated with your vacation home. If you are looking at a condo or townhouse, there may be associated condo fees or maintenance and landscaping fees. If you are looking at a coastal property, you'll need to take out additional flood insurance that you may not need for your primary residence. A new mortgage origination will also come with a down payment and closing costs. Make sure you estimate all of these costs before your start looking for your second home.
Decide if you're going to rent the home
If you only plan to use the home for part of the year, like during summer vacation or around the winter holidays, you may want to rent it out as a short-term rental when it's not in use. Rental income can help you cover some of the costs like the mortgage and maintenance, but you'll also have to act as the property manager, not just the owner. You'll need to clean the home between renters, address any issues that come up during their stay, and may need to keep the home free of too many personal items. You also won't be able to use the home whenever you want if it's occupied by a renter.
Second homes and vacation homes are becoming increasingly popular as many Americans adjust to social distancing and look to escape crowded areas. With today's low mortgage rates, you may even be able to lock in a lower mortgage payment than your current home. If you have any questions about buying a second home, let us know.
Sources: Bankrate, Mansion Global