Preparing Your Home for a Safe Thanksgiving
Blog posted On November 25, 2020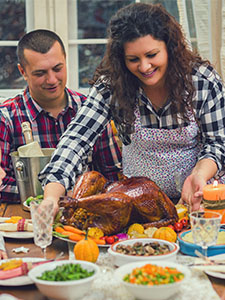 The holidays are normally a time when you gather with friends and family to spread cheer and share food. But in 2020, we are working to avoid spreading and sharing. Many holiday traditions might look different this season in an effort to stay safe and stop the spread of the coronavirus pandemic. If you're preparing to host a small Thanksgiving gathering this year, here are three ways to stay safe while you celebrate.
Increase air flow inside
The most common way that the coronavirus is spreading is through close contact with an infected person, which, in October, was clarified by the Centers for Disease Control (CDC) as spending more than 15 minutes with someone within a space of six feet or less. For most people, this would include a typical Thanksgiving dinner.
If the weather is too cold to celebrate outside, do everything you can to increase the flow of fresh air inside. "Ventilation makes a big difference because we now know that the virus is transmitted mostly through close and prolonged contact," says Dr. Sandra Kesh, deputy medical director and infectious disease specialist at Westmed Medical Group in Westchester, New York. Opening windows, cracking doors, and using air purifiers are all great ways to try and circulate fresh air through your dining room or kitchen. Most likely, your kitchen or dining room will be warmer than usual anyway from using the oven for food preparation.
Celebrate outside
Always wanted to try grilling your Thanksgiving turkey? This is your year. If the weather is warm enough, consider cooking and celebrating outside. "We know that being outdoors is lower risk for coronavirus transmission than being indoors," says Julia L. Marcus, epidemiologist and assistant professor at Harvard Medical School. The more time you can spend outdoors the better – especially if you do choose to celebrate Thanksgiving with family or friends outside of your household.
If the weather is colder in your area, try starting up your fire pit or using outdoor heaters and blankets. Instead of assigning different dishes, ask your guests to bring fold out chairs, paper plates and napkins, plastic silverware, and disposable tablecloths. This might mean a little more cooking preparation for you, but it will help reduce the amount of time indoors, and the amount of interaction with dirty dishes, napkins, and tablecloths. "Again, being close to others is the highest risk, and then touching common surfaces is the second highest," says Natalie Seymour, a food safety extension associate at N.C. State University.
Having one household cook while other friends and family prepare outdoor seating can also help limit the number of people in food preparation areas, which is a recommended precaution by the CDC. Even better, have guests bring their own dinner and drinks. If you choose to do a family style dinner, have the food on a separate table from where you eat, and elect one person to dish out the food on people's plates before dinner. This can limit the amount of contact with surfaces like the serving utensils.
Keep social distance
As we've heard all year, social distance is key, which can be hard during family gatherings like Thanksgiving. "As hard as it is to be apart, it's best if those who are elderly or immunocompromised join virtually instead of in person," Seymour says. If your elderly family members live nearby, you can deliver them their dinner and have a virtual call set up for when you eat. You could even leave a chair empty at the table and put your laptop in that spot, so it feels like they're practically there!
If family and friends outside of your household do decide to gather for Thanksgiving, ask that they take their temperature before arriving, just to be safe. Fever is one of common coronavirus symptoms – but even if they're not feeling feverish, remind guests to stay home if they're feeling sick. When people arrive, remember to avoid hugs. As hard as that may seem, it's important to maintain distance, especially if people have been traveling. To prevent the spread of germs, "anyone over the age of 3 should definitely wear masks when not eating if they are going to be indoors," Kesh says.
We know that the holidays are normally a time to gather with the ones you love, but it's crucial that you try to limit exposure during this season. Positive coronavirus testing is trending upward, and it's predicted to get worse with holiday travels. Though it might be a difficult decision to stay home or tell your loved ones to do the same, "Thanksgiving is not the time to expand your bubble," says Dr. Patrick Kachur, a professor at the Columbia University Mailman School of Public Health. "The lowest level of risk is limiting your gathering to the unit you're sheltering with already."
For more information on safety tips during the holidays, visit www.CDC.gov.
Sources: Better Homes and Gardens, CDC, New York Times, Today.com