Preparing to Use Home Equity to Finance a Second Home
Blog posted On December 10, 2020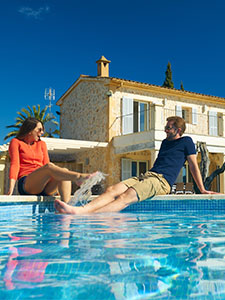 With record low mortgage rates and reduced costs spent on commuting and dining out, somehome buyers have been able to save thousands of dollars for a down payment. And with home equity on the rise, if you are a homeowner, you could save thousands more by using your first home to help finance your second.
Understand home equity
A common way that many homeowners finance a second home is by tapping into the home equity in their primary home. Home equity is the amount of interest you have in your home. To calculate your home equity, you would need to determine the current market value of your home and subtract the amount of money left on your loan. In order to use your home equity to finance a second home, you need to have a substantial percentage of your home paid off. Most lenders allow you to access your home equity as long as your loan-to-value (LTV) ratio does not exceed 80% to 85% – though the maximum LTV will vary per lender and borrower.
This amount of equity that you can withdraw from your home to use for other investments is called tappable home equity. As home prices continue to rise, so does home equity, making the current market a great opportunity to buy a second home. Black Knight reported that Americans' total tappable home equity rose to a record $6.5 trillion earlier this year. $38.7 billion of this equity was withdrawn by homeowners through cash-out refinances.
Apply for a cash-out refinance
A cash-out refinance is a great way to lower the interest rates on your current mortgage and finance the down payment for your second mortgage. When you withdraw your equity in the form of a cash-out refinance, you replace your current mortgage with a new, larger loan so that you can take out the difference in cash. For example, if your home is valued at $350,000 and your current mortgage balance is $250,000, you have $100,000 in home equity. With a cash-out refinance, you can make a new home loan higher than your previous balance of $250,000, but normally it will not be able to exceed 80% of your home's value. Therefore, your new loan would be a maximum of $280,000, giving you $30,000 in cash.
Explain the purpose of a second home
Typically, your lender will ask you to classify your second home as either a vacation home or an investment property. This is because there are often different rates and requirements for each. A vacation home is a home that you will live in for part of the year and have for personal use. Though short-term rentals are normally permitted, you cannot use a property management company to control the rentals. Furthermore, to classify a second home as a vacation home, it will need to be a certain distance away from your primary residence.
An investment property is a home that you will be purchasing specifically for the purpose of long-term rentals or upgrading and reselling. If you are renting out to people long term, you will either have to act as the landlord or hire out a rental management company.
Prepare for added costs
Whether buying a house for rentals or vacation purposes, you will likely face added costs. If your home is in an area by the water, then you might spend more on homeowner's insurance. Plus, you will need to budget for maintenance of your second home – whether that means hiring a lawn service, repairing a roof, or raking leaves. The monthly utility bills will also need to be factored into your budget – electricity, water, gas, etc. Lastly, remember that the taxes on your property will increase the overall cost.
Investing in a second home can be a great way to get a change of scenery and diversify your financial portfolio as well. As many people are looking for opportunities to escape the cities and more populated areas due to coronavirus concerns, a second home could be a popular rental property or just a nice escape from home. If you have any questions about investing in a second home, please let us know.
Sources: Forbes, HousingWire, Money.com