Market Update: Rates Inch Up; Consumer Price Index Coming Up This Week
Blog posted On February 07, 2022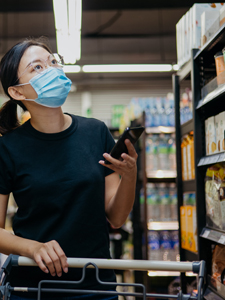 Despite trending lower in the beginning half of last week, mortgage rates trended slightly higher toward the end. Foreign bond markets were largely the cause. On Thursday, the Bank of England (BOE) hiked its benchmark rates and the European Central Bank (ECB) hinted at a rate hike in its upcoming meeting. Consequently, foreign bond yields rose, and U.S. bond yields followed the trend. Mortgage rate trends closely follow bond yield trends.
This week, the consumer price index (CPI) is scheduled for release on Thursday.
The consumer price index tracks the changes in the average prices of a fixed basket of goods and services sold to final consumers. It is a common tool used to measure inflation. In December, the consumer price index surged at the fastest annual pace since 1982. Not excluding food and energy, the CPI jumped 7% annually. Month-over-month, inflation rose 0.5%. The index excluding food and energy (core CPI) increased 5.5% year-over-year – the biggest growth since 1991 – and 0.6% month-over-month.
The surge in inflation comes amid a shortage of goods caused by supply chain issues and a lack of workers related to the Great Resignation. An additional factor pushing inflation higher was the cash flow that Congress and the Federal Reserve had been pushing into the economy over the past two years to aid with coronavirus relief. However, as the economy continues to show strength, the Federal Reserve continues to pull back its asset purchases. The Fed asset tapering process is set for a March completion date. Shortly after, it is widely expected that the Fed will bump up the benchmark interest rate. While this could cause higher trends in interest rates, it is expected to help ease the pressures of inflation. As inflation cools, it's hopeful that housing prices will cool as well.
Other reports scheduled for this week include the report on consumer credit, as well as the weekly mortgage application and jobless claims surveys.
With a potential rise in interest rates coming up, now's the time to make your move on a refinance. By lowering your mortgage rate, you can save thousands over the life of your loan. To compare refinance scenarios, head to our refinance calculator page or contact us.
Sources: Bloomberg, CNBC, Mortgage News Daily, Mortgage News Daily