Market Recap: Pending Home Sales Fall, Construction Spending Jumps, Mortgage Apps Mixed
Blog posted On December 04, 2020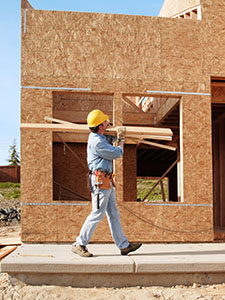 Mortgage rates remained relatively unchanged this week but continued trending near record-breaking lows. Pending home sales fell for the second month in a row. Construction spending increased. Mortgage purchase application submissions rose while refinance submissions decreased.
In October, pending home sales dropped 1.1% after a 2.2% decline in September. Though home buyer demand saw a surge earlier this year, it might be leveling off due to seasonal changes, spikes in coronavirus cases, and rising home prices. However, pending home sales are still up 20% annually as record low mortgage rates and a desire for more space have sent many city-dwellers searching for homes in suburban areas.
Construction spending rose 1.3% in October at a seasonally adjusted, annual rate of $1.44 trillion. In September, spending was revised to a 0.5% decline instead of a 0.3% gain. Similar to previous months, residential spending was much higher than that of non-residential projects. Residential spending rose 2.9% in October, non-residential spending was unchanged, and public spending increased 1%. Construction projects on single family homes continues to rise in an effort to supply more homes to meet the high home buyer demand. After many construction projects were suspended earlier in the year due to coronavirus concerns, the housing inventory dropped to record lows.
For the week ending 11/27, Mortgage application submissions had a composite decrease of 0.6%. Though the purchase index rose 9%, the refinance index dropped 5%. Annually, however, the number of refinance application submissions was up 102%. "The ongoing refinance wave has been beneficial to homeowners looking to lower their monthly payments during these challenging economic times brought forth by the pandemic," said Joel Kan, the Mortgage Bankers Association's associate vice president of industry and economic forecasting.
The record-low mortgage rates have been extremely helpful for homeowners looking to save money by refinancing. When looking to refinance your home loan, there are several different loan options, like switching from an adjustable-rate to a fixed rate or opting for a cash-out refinance. If you would like to explore your refinance options, please let us know.
Sources: Econoday, HousingWire, MarketWatch, MarketWatch, MarketWatch, Mortgage News Daily