Market Recap: Home Builder Sentiment Drops, Fed Leaves Rates Unchanged, Housing Starts & Building Permits Climb
Blog posted On December 18, 2020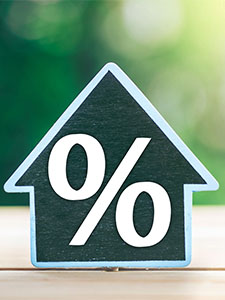 This week, the Federal Reserve voted to leave the benchmark interest rate near zero. As a result, mortgage rates continued to trend near historic lows. The National Association of Home Builders (NAHB) reported a slight drop in home builder confidence. Housing starts and building permits increased marginally.
After three consecutive months of record highs, the housing market sentiment index had a four-point drop in December. Down from the record high of 90 in November, the index dropped to 86 this month – which is still the second-highest reading in the index's history. The factors that affected the drop in the index's reading included the prospective buyer traffic index, the index that measures expectations for future sales over the next six months, and the index of current single-family homes – all declining slightly from the previous month.
After meeting on Tuesday and Wednesday this week, the Federal Open Market Committee announced that there would be no rate change, as expected. The Fed also revealed an improved economic outlook from their September report. Now, the median expectation for gross domestic product in 2020 is -2.4% instead of -3.7%. The 2021 outlook is now 4.2%, up 0.2% from September. The Committee's unemployment outlook improved as well – down to 6.7%. The median unemployment expectation for 2021 is now down to 5%.
Housing starts and building permits both saw a slight increase in November. With a 1.2% gain month-over-month, housing starts reached a seasonally adjusted rate of 1.55 million in November. Compared to November 2019, housing starts are up 13%. Building permits saw a 6.2% increase month-over-month and occurred at a seasonally adjusted rate of 1.64 million. Year-over-year, permits were up 8.5%. The pace of building permits in November was the highest recorded in 14 years – likely driven by the surge in multifamily building projects. The number of permits issued for buildings with five or more units increased by 23% month-over-month, compared with a 1.3% increase in permits for single-family homes. "New home construction stands out as a clear solution to the rising challenge of affordability especially as housing demand is expected to continue to grow," said Realtor.com senior economist George Ratiu.
As more homes begin to go up for sale and prices begin to drop, it's possible that rates could rise. We know that historically low rates can't last forever, but for now, the benchmark interest rate is kept near zero. Mortgage rates are touching historic lows, and if you would like to lock in yours, contact us today.
Sources: CNBC, MarketWatch, MarketWatch, MarketWatch