Market Recap: Consumer Credit Slows, Mortgage Apps Mixed, Job Openings Increase
Blog posted On December 11, 2020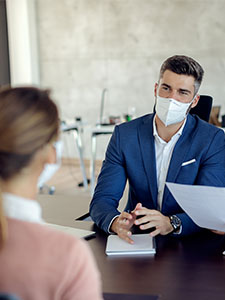 Mortgage rates remained relatively unchanged this week and continue to hover around historic lows. Consumer credit slowed with a rise in nonrevolving credit and a fall in revolving credit. Mortgage application submissions were mixed as purchase submissions dropped but refinance application submissions increased. Job openings rose slightly.
Consumer credit slowed to an annual growth rate of 2.1% in October. Nonrevolving credit rose at a monthly rate of 4.8% while revolving credit fell at a monthly rate of 6.7%. In September, consumer borrowing increased for the first time since the coronavirus outbreak with a $15 billion gain. In October, consumer credit had a gain of just $7.2 billion. Economists at Econoday had expected an increase of $17 billion, but as COVID-19 cases continue to spread, more people are limiting spending activity and staying home.
Mortgage application submissions decreased 1.2% for the week ending 12/4. According to the recent report by the Mortgage Bankers Association (MBA), the refinance index increased 2% while the purchase index dropped 5%. Compared to last year, refinance application submissions are up 89% while purchase application submissions rose 22%. "The increase in refinance applications was driven by FHA and VA refinances, while conventional activity fell slightly," said Joel Kan, associate vice president of economic and industry forecasting. "The purchase market is also poised to finish 2020 on a strong note."
Job openings rose slightly in October, up 300,000 to reach 6.7 million. The Labor Department reported that job openings increased at a rate of 4.5% in October while the rate of voluntary quits remained unchanged at 2.2% and the rate of layoffs increased slightly at 1.2%. The total number of separations increased to 5.1 million while number of hires was relatively unchanged at 5.8 million. As we saw in September, the number of hires appears to be normalizing after a post-lockdown surge over the summer.
As the year winds down, consumer spending may heat up. With the holidays just around the corner, everyone will be searching for something special for that special someone. This year has been one to remember – so why not make this the holiday season where you truly go home for the holidays? We'd love to help you give yourself the gift of home – if you're interested, let us know!
Sources: Bureau of Labor Statistics, MarketWatch, MarketWatch, MBA, Mortgage News Daily