Market Forecast: Mortgage Apps, Housing Market Index, and Housing Starts and Building Permits
Blog posted On July 13, 2020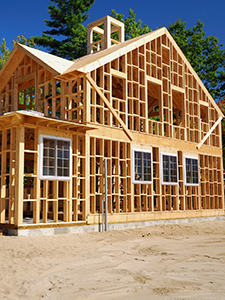 Average mortgage rates are at record low levels, continuing to motivate home buyers and homeowners looking to refinance. This week, the National Association of Home Builder (NAHB) will release its housing market sentiment index. Housing starts and building permits and the Mortgage Bankers Association (MBA) weekly mortgage application survey are also scheduled for release.
The MBA weekly mortgage application survey tracks week to week changes in new purchase and refinance mortgage applications. For the week ending 7/3 new purchase application submissions ticked up 5.0% and refinance application submissions inched up 0.4% for a composite increase of 2.2%
The NAHB housing market index is based on a survey of home builders' perceptions on current and future conditions. After a substantial drop in April, home builder sentiment continued to climb in June, rebounding to a level of 58. Current sales conditions improved to a level of 63, sales expectations rose to 68, and buyer foot traffic jumped to 43. Any reading above 50 is considered positive. Pandemic related closures resulted in a steep drop in home builder sentiment earlier this year, but as cities and states reopen and buyer demand remains strong, builders are going back to work.
Housing starts track ground broken on residential projects and building permits track permits issued. In May, housing starts increased 4.3% month-over-month to a seasonally adjusted annual rate of 974,000 units. Building permits also improved, up 14.4% month-over-month to a seasonally adjusted annual pace of 1.22 million.
In recent years, the biggest challenge the housing market has faced is not enough homes for sale. With record low mortgage rates and strong buyer demand, home builders will likely stay busy late into 2020.
Sources: CNBC, Econoday, MarketWatch, MarketWatch, Mortgage News Daily