Market Forecast: Job Openings, Mortgage Applications, and Consumer Credit
Blog posted On April 05, 2021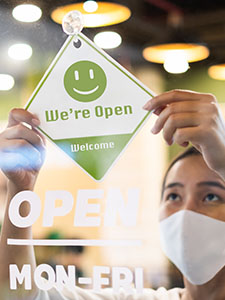 Mortgage rates trended higher last week. On Tuesday, Mortgage Daily News reported net gains that pushed rates near some of their highest levels in a year. However, with the bond market recovery on Tuesday afternoon and the reprices that followed, rates dropped slightly in the latter half of the week. This week, the Labor Department will release their Job Openings and Labor Turnover Survey (JOLTS) on Tuesday. The weekly mortgage application survey will be released Wednesday morning, followed by the report on consumer credit that afternoon.
The Labor Department's JOLTS tracks month to month changes in job openings, hirings, and voluntary quits. Job openings jumped 4.6% in January, reaching a seasonally adjusted level of 6.9 million. The majority of the openings were in the education sector as many schools reopened for the new year. The rate of hires was relatively unchanged at 5.3 million (3.7%) and the rate of layoffs and discharges fell by 136,000. The quits rate dropped 0.1 points lower to 2.3.
The Mortgage Bankers Association (MBA) weekly mortgage application survey tracks week to week changes in the submission of new purchase and refinance mortgage applications. For the week ending 3/26, mortgage application submissions dropped a composite 2.2%. Refinance submissions dropped 3% while the purchase index dropped 2%. Compared to last year, the refinance index fell 32% but purchase applications grew by 39%. "Mortgage applications for refinances and home purchases both declined, but purchase activity was still convincingly higher than the pandemic-induced drop seen a year ago, as well as up 6 percent from the same week in March 2019," said Joel Kan, associate vice president of economic an industry forecasting at the MBA.
The consumer credit report tracks total outstanding consumer debt segmented by revolving and nonrevolving credit. Revolving credit includes monthly debt like credit card statements and nonrevolving credit includes longer term debt like student loans and auto loans but excludes mortgage debt. Consumer credit declined an annualized rate of 0.4% in January, bringing the total down to $1.3 billion. Revolving credit dropped 12.2% while nonrevolving credit rose 3.2%. However, economists expect credit growth to accelerate later this year.
Economic experts like Kan acknowledge the rising rate environment. However, with increased housing inventory, Kan believes that the market will see cooled price growth and preserved affordability. When rates start to rise, it's important to lock in your rates as early as possible. Ask us about our rate lock options.
Sources: Business Insider, MarketWatch, MarketWatch, MBA, Mortgage News Daily, Mortgage News Daily