Low Down Payment Options: FHA Loan vs. Freddie Mac Home Possible Loan
Blog posted On October 08, 2020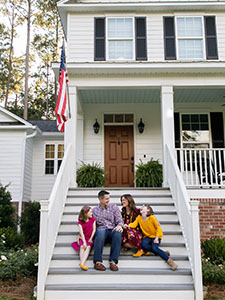 You grew up dreaming of the day that you trade in the treehouse and purchase a home of your own. You've done the research, found the perfect place, but there's one thing still standing in between you and your American Dream come true: the down payment.
The majority of people think that owning a home is an important milestone, but according to a survey done by Bankrate.com, the second most common barrier to achieving it is the unaffordable down payment.
Many first-time home buyers think they need a 20% down payment on a mortgage. However, there are low down payment options that can help you reach your homebuying goal faster and easier.
FHA Loan
A Federal Housing Administration (FHA) Loan is a government-sponsored loan — so if you default on your mortgage payments, it's guaranteed by the federal government. It is less restrictive than conventional loans, with easier qualifications, competitive interest rates, and a down payment as low as 3.5%. To qualify for the 3.5% down payment, you must have a credit score of at least 580. If it's between 500 and 579, you will need at least a 10% down payment. If you've had a bankruptcy or foreclosure in recent years, you can need to reestablish your credit to qualify for an FHA loan, however, as with all FHA Loan approvals, your debt-to-income ratio must be less than 40% and you must proof of income and employment.
Everyone who finances their mortgage with an FHA Loan is required to pay a Mortgage Insurance Premium (MIP) and an upfront funding fee of 1.75% of the home's purchase price. The price of the MIP varies, but it is typically about .5% to 1% of the loan. You pay the MIP for a minimum of 11 years unless your down payment is less than 10% — then you will have to pay the MIP through the life of the loan.
Freddie Mac Home Possible Loan®
While conventional loans typically have stricter requirements than FHA Loans, the Freddie Mac Home Possible Loan allows you to make a down payment as low as 3 % or up to 5% depending on the borrower credit score.
A Freddie Mac Home Possible Loan also allows you to use rental home income when qualifying for multi-unit property loans. Another flexible feature of the Freddie Mac Home Possible Loan is the appraisal process. Because the FHA Loan is government-sponsored, it has stricter steps and processes. While the home appraisal process for an FHA Loan in more in depth, a Home Possible appraisal will likely be quicker as it does not require repairs.
Perhaps the most notable differences between a Freddie Mac Home Possible Loan and an FHA Loan are the upfront funding fees and mortgage insurance policies. A Freddie Mac Home Possible Loan requires neither an upfront funding fee nor mortgage insurance. However, if your down payment is less than 20%, then you are required to purchase Private Mortgage Insurance (PMI). As opposed to an MIP, PMI can be cancelled once your Loan-to-Value (LTV) reaches 80%. Depending on how fast you pay your principal or how the value of your house appreciates over time, you may only need a PMI for a couple of years.
In 2019, only 426,000 first-time home buyers made a down payment of 20% or above, in contrast to the 1.66 million that used some form of low down payment financing. Talk to one of our loan officers today about our low down payment options and let us help you make your American Dream come true!
Sources: FHA, Freddie Mac, HousingWire, Realtor Magazine