How to Stretch Your Income if You've Been Impacted by the Pandemic
Blog posted On July 29, 2020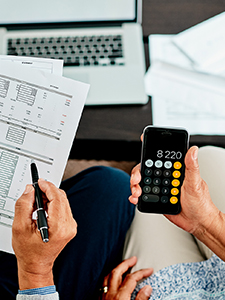 Many Americans have experienced a loss of income due to the coronavirus pandemic related to sickness, job closures, layoffs, and furloughs. Bankrate reports approximately half of American households lost income as of June 2020. With an uncertain road to recovery ahead, American workers are worried about an extended coronavirus outbreak impacting their income again.
If you received a pay cut or lost your job during the pandemic, you are not alone. As economies reopen and people go back to work, recovery is ahead. When you experience a temporary loss of income it's important to reevaluate your finances and find more ways to save and stretch. CNBC contributors identified three ways to stretch your income in the case of temporary income loss.
Cut Expenses
Even if you don't feel like you can cut anything out, you should always start by looking at your monthly expenses. Due to the widespread impact of the pandemic, some service providers are willing to work with you. For example, if you are no longer driving as frequently because you are working from home and only leaving the house for essential purposes, call your car insurance provider and find out if they are willing to reevaluate your premium. Another example, if you are spending most of your time at home connected to your home WiFi, you could reduce your mobile data package and lower your phone bill.
Consider Relocation
In some cases, moving may help you drastically reduce expenses. If you have the option to move in with family rent-free or at a lower rental rate, that would effectively eliminate your housing cost. In other instances, moving from an expensive city to a more affordable suburb could help you save on housing costs, especially if your job has shifted to a remote work model and you no longer have to commute. Before you move, remember that will come with the additional costs of a down payment or security deposit on your new home, plus any moving-related costs like truck rental or hiring movers.
Refinance or Consolidate Debt
When you have a loan like a mortgage loan or personal loan, part of your payment goes toward loan interest. Lowering your rate of interest lowers the cost on these types of loans. For example, if you have high-interest credit card debt, you may be able to consolidate it when you take out a personal loan at a lower rate of interest. If you own your home, a mortgage refinance could be an opportunity to lower your mortgage rate and monthly payment, remove mortgage insurance, or even get cash out in some cases. A mortgage refinance is a new loan origination and will come with closing costs, so you'll have to be prepared to cover that.
Households across the country have been financially impacted by the coronavirus pandemic. Consult a financial professional to find out where you can cut expenses, weigh the cost of moving, and determine whether a refinance is right for you.
Sources: CNBC