Design Ideas for the Perfect Home Office
Blog posted On June 25, 2020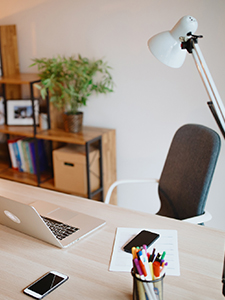 If you're working from home more often than you used to, you may be reevaluating your at-home workspace. Having a separate space to work can improve your productivity and help you establish a better work-life balance. What is your current home office missing?
Consider a Sleeker Desk
If you haven't updated your home office for years, you may still have something like a heavy brown "banker's desk" that was popular in the pre-digital era. Chances are most of your work is paperless and you don't need all of those drawers to organize your home office space. If you do need extra storage, consider a decorative bookshelf or add organizational elements to your closet. A sleek writing desk with just a few drawers looks better and encourages you to curb clutter.
Look for Multipurpose Furniture
Your home office is probably going to be smaller than your actual office. Whether you are repurposing an extra bedroom or claiming a corner of the den, you're going to want to maximize your space. Choose multipurpose furniture that you can use outside of the 9 to 5 window. For example, skip the rigid office chair and choose a more comfortable chair you wouldn't mind reading in on the weekends.
Add Bookshelves for Functional Flair
Looking for somewhere to store your books and binders now that you've ditched your drawers? Adding shelves to your wall or an actual bookshelf can help you stay organized and decorate in the same place. Use your bookshelf to house any physical take-home work or display job-related awards and personal knickknacks. You keep a photo of your family on your desk at work, why not bring them into your home office as well.
Don't Forget Lighting
Depending on the location of your home office, you may not have access to loads of natural lighting. You'll be using your home office throughout the day so continue a dimmer switch or additional reading lamps to offset a single overhead light. The right lamp can even add a more decorative element to your space.
Keep it Comfortable
It's your home office, but remember, it's still part of your home. Whether working from home is going to be a permanent part of your routine or just something you do once in a while, you want your home office space to fit in with the rest of your home.
If your home office will require a little more remodeling, you may want to consider a cash-out refinance. A cash-out refinance is a popular option for reinvesting in your home. With today's low rates, you may be able to lock In a lower rate if you choose to refinance your loan and take cash out. If you have any questions, let us know.
Sources: Mansion Global