Demand for Clean Home Technology on the Rise
Blog posted On September 02, 2020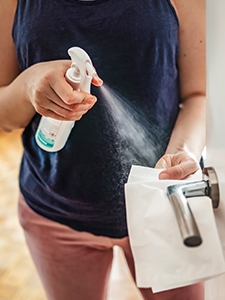 Smart home technology has become an increasingly more common home buyer demand, especially as the internet of things evolves. Home buyers are looking for features like smart thermostats, self-closing blinds, and doorbell cameras among other home enhancements. In the wake of the coronavirus pandemic, a new type of smart home technology is on the rise. Home buyers, especially new home buyers, are inquiring about self-cleaning and sanitizing technology.
Among the most common requests are better home ventilation systems and antimicrobial LED lighting. Vital Vio, a company that specializes in antimicrobial LED lighting, designs a product that can go under cabinets and target bacteria, mold, and fungi with visible lighting. While the lighting creates a toxic reaction within bacteria cells, it's not harmful to humans, pets, or plants. Broan-NuTone, a decades old manufacturer of home products, produces an antimicrobial ventilation system. Since March, the company has seen a 40-fold increase in inquiries about its product. A Vital Vio survey revealed 64% of respondents were willing to spend poor to rent or own a home with automated cleaning technology.
New home builders are also starting to incorporate clean home technology in the homes they build. In addition to actual cleaning features, enhancements like touchless faucets and smart lights reduce touchpoints in the home and can limit the spread of bacteria between family members. Antimicrobial door handles are also becoming more popular and more available. Major retailers like Amazon and Lowe's are selling antimicrobial door handles to homeowners looking to reduce the risk of virus spread.
Products like LED lighting, filtration systems, and antimicrobial door handles are not proven to kill coronavirus, they mitigate the risk of other potentially infectious bacteria and create the cleanest possible home. It's important for homeowners to understand that their home is an ecosystem. Even if there is not one "cure-all" solution, homeowners who are spending more time at home are using a variety of products and technology to lower the risk of infection.
If you're interested in adding clean home technology to your home or upgrading your fixtures with touchless technology, a cash-out refinance could be a smart way to fund this renovation. Using your home's equity to reinvest in your home could increase its resale value.
Sources: CNBC