Ask the Experts: Saving for Your New Home
Blog posted On July 02, 2020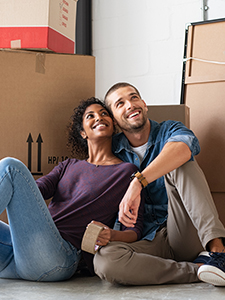 Thinking about declaring independence from your landlord? You are not alone. With record low mortgage rates, first-time home buyers are expected to be shopping in droves this summer. When you're new to the home buying process, you may not know where to start. Here are four steps you can take now whether you're planning to buy a home soon, or just starting your research.
Set Your Timeline
And start saving now. Buying a home is the largest investment most Americans make in their lives and there is no such thing as over-saving. Even if you think you've already reached your down payment goal, there will be other costs associated with the home purchase, plus the move itself. The furniture in your apartment probably won't fill up an entire home!
If you already have a savings account, that is a good first step. You can also look into high-interest savings accounts. Digital banks tend to offer higher interest rates than standard brick and mortar banks. A little extra interest goes a long way. Whatever you do, avoid stuffing your money under your mattress. If your savings is not already in a bank, any large deposits close to your home purchase will be a red flag and could prevent your mortgage application from getting approved.
Consider All the Costs
You know about the down payment and you may have an idea of how much you need to save. Mortgage financing comes with closing costs which can be anywhere from 2% to 5% of the home purchase price. Closing costs vary from state to state so check with your loan officer about what you'll be expected to cover.
When you're a homeowner, you'll also be responsible for all of your home's maintenance, including any repairs or replacements. Pay attention to your home inspection and find out if you should expect any expensive services like a new HVAC or a roof repair within the first few years. Saving for your new home also means being prepared for the ongoing cost of homeownership. It's a good idea to set aside an emergency fund for the first few years.
Get Preapproved
One of the most common mistakes first-time home buyers make is going to open houses without getting preapproved for a mortgage. You haven't even picked out your home, why should you be thinking about how to pay for it? The earlier you apply for a mortgage, the better. You'll have a clear estimate of how much loan you will qualify for and you'll already be started with the mortgage process.
A letter of preapproval also helps you make a stronger offer. You can show the seller that you've already been approved for a mortgage and can guarantee a faster transaction than a buyer who hasn't even started the mortgage process yet. Sellers may be on a deadline to move and need to buy a home too. They will be looking for buyers who are ready to make moves.
Ask About Down Payment Assistance
Saving to buy a home on your own takes a long time, and home values are rising (which is a good thing for when you own your home – that's your asset increasing!). For example, if you're want to buy a home that is $25,000, your 10% down payment will be $25,000. If you make $50,000 a year and save 10% of your salary annually, it will still take you 5 years to reach that goal. By then, the house may be worth even more!
There are over 2,500 down payment assistance programs available nationwide at the federal, state, and local level. Some are income based, some are just for first-time home buyers, and some can be used for the down payment or closing costs. When you meet with your loan officer to get preapproved, ask about down payment assistance options in your area. Buying a home may be more affordable than you think!
Whether you're ready to buy a home now or just starting to think about it, we'd love to get to know you. Let us know if you have any questions about buying your first home.
Sources: Money.com