7 Steps to Your New Home Purchase
Blog posted On June 18, 2020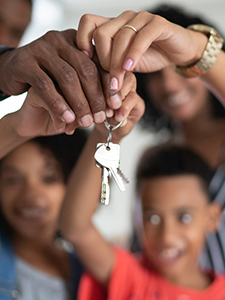 If you're planning to buy a home this summer, you are not alone. After a disrupted spring home buying and season, many buyers and sellers are expecting a busy summer. Be prepared for a competitive market and multiple offers. Buying a home is a big purchase and the process may seem confusing. Make it easier on yourself, by focusing on these seven steps.
1. Get preapproved for a mortgage
Many home buyers, especially first-time home buyers, may think about the mortgage as a secondary part of the home buying transaction. If you don't get preapproved for a mortgage before you start looking at homes, you're at a disadvantage trying to bid against prospective buyers who are already preapproved. Mortgage preapproval shows the seller you've already started the mortgage process and gives you an idea of what your budget will be. Once you're preapproved, you'll know what you'll need for a down payment and can look for homes in your budget.
2. Hire a Realtor or real estate agent
Some buyers may not hire a Realtor or real estate agent because they think it will save them money. However, working with a real estate agent gives you more access to home listings and will negotiate on your behalf when it comes time to make an offer. Plus, your agent does not get paid until you buy your home.
3. Tour Homes
Touring homes may look a little different this summer, because of social distancing guidelines and other ordinances enacted to slow the spread of coronavirus. Many agents are offering video tours and some online listings will have virtual tours. In other cases, you may be able to complete a self-guided tour if the home is vacant. Check with your agent for more guidance on how buyers are touring homes in your area.
4. Make an Offer and Negotiate
Your agent will help you with making an offer. Depending on how busy your market is you may have to offer more than the asking price. In some cases, you may be able to offer below the asking price if the home needs repairs or renovations. If the seller makes a counteroffer, your agent can negotiate on your behalf.
5. Submit Your Loan Application
You're preapproved for your mortgage, but you'll need to finish your loan application. To complete the loan application, you'll need your most recent bank statements and pay stubs, and other financial documents. When you work with us, you can scan and submit many of these documents through our secure mobile app. Do not make any big changes of financial moves while you are applying for a mortgage. Any big bank deposits or withdrawals, opening a new line of credit, or changing jobs could hurt your chances of getting approved.
6. Get Appraisal
An appraiser will confirm that the sale price of the home matches the market value of the property. Due to social distancing, some appraisers are completing drive-by appraisals or virtual appraisals.
7. Final Walk Through and Closing
Before your closing, you will complete a final walk-through of the home to make sure everything looks okay. At the closing, you'll have to sign the final paperwork. Some forms can be reviewed and signed online.
Some parts of the home buying process have changed, but working with the right loan officer and real estate agent will help you navigate all of the steps.
Sources: US News and World Report