5 Painting Mistakes Amateurs Make
Blog posted On October 07, 2020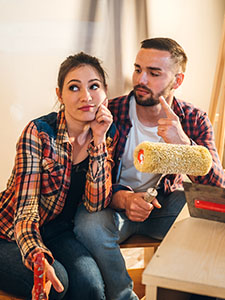 Staring at the same walls all summer may mean you're seeing things in a new light. Maybe you want to brighten up your new home office (bedroom) or give the conference room (dining room) a new look. One of the easiest ways to spruce up your space is to add a fresh coat of paint. Painting is an inexpensive way to improve a room, but it can also be a costly mistake.
If you're ready to take on the task and you want to do it yourself, take these five steps and avoid the painting mistakes amateurs usually make.
Get the right paint for the surface
Did you know different types of paint are made for different surfaces? Beyond just exterior and interior, you're going to need to do your research and find out if the paint is suitable for the walls in your home. The wrong type of paint may bubble or peel over time and scraping it off to start over will be a big mess.
Pay attention to the finish
Whether you go satin, eggshell, or high gloss depends on the room you are painting. If you're painting a basement or bathroom, you're going to want to make sure the paint is mildew resistant as well. Professional painters recommend using heavier, premium paints in high traffic rooms like kitchens. You'll want to avoid a higher sheen if you're working on an older project like a front door, because the sheen will highlight any imperfections.
Prepare the Surface Properly
You may be excited about your new paint project, especially if you've been looking at the same wall for months. Skipping proper preparation could mean you have to do everything over. Before you head to the paint store, remove any wallpaper, scrape off loose and peeling paint, and consider sanding any uneven surfaces. Once you've cleaned up your wall, you might notice cracks or holes that need to be patched before you paint as well.
Don't Overdo It
Overzealous painters tend to overload the brush or roller, leaving the surface unevenly coated and causing paint to drip everywhere. It's easier to add another coat of paint than to peel everything off and start over. Start with your first coat and if it's not enough, wait for the first layer to dry before adding the second.
Remove Painter's Tape Promptly
If you prepared properly, you've probably taped the floors and wall edges with painter's tape. Painter's tape should be removed shortly after your last coat dries. If you leave the painter's tap on for too long it could damage your other surfaces or coalesce with the paint.
Painting a room is one of the easiest ways to give it a fresher look at a low cost. If the paint isn't enough and you think you've got more room for improvement, let us know. A cash-out refinance could help cover all your home renovation costs, and even help you add value to your home.
Sources: The Kitchn