4 Steps for Home Buying Success
Blog posted On March 18, 2021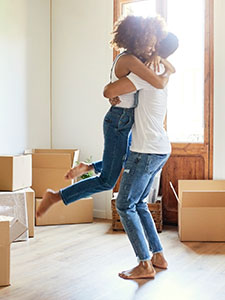 After years of saving and months of searching, you've finally found the one. Now, you're ready to move in. But there are a few other steps you need to take before the moving trucks roll up. If you know them in advance and are prepared, then the home purchase process can move even faster, and you can start packing up in no time.
Check your credit score
A good first step after finding the perfect home (or even before you start your home search) is to check your credit score. Your credit score is one of the most important factors evaluated by your lender that helps them determine the type (FHA, VA, USDA, Conventional etc.) and amount ($200,000, $300,000 etc.) of loan you can qualify for. Each type of loan has a different minimum credit score requirement, so it's helpful to be aware of which loans you might be able to apply for, and the associated costs you would be required to pay. To check your credit score, you can contact your credit card company, use a free service to get an estimate, or request a free annual report. All consumers are entitled to one free credit report each year.
Gather prequalification and preapproval documents
Prequalification is a good first step to help you make a wining offer (after checking your credit score). Getting prequalified shows the homeowner that you have started working with a lender, will likely qualify for a loan of a certain amount, and are on the road toward being approved. This can give both you and the seller more confidence when submitting an offer. To get prequalified, all you need to do is submit information to your lender that can give us a general picture of your financial health – your current income, debts, assets etc. Then, we can normally give you a rough estimate of the amount of money you could borrow.
Preapproval is a more in-depth process. By having a letter of preapproval, you show the seller that you are serious about wanting their home and you can afford to pay for it. While prequalification is more of a suggestion, preapproval is a statement. "A prequalification is a good indication of creditworthiness and the ability to borrow, but a preapproval is the definitive word," says Todd Kaderabek of Beverly-Hanks Realtors in Asheville, N.C. Applying for a preapproval is still relatively simple and can be started online. In addition to providing your lender your income, debts, and assets, you will want to collect documents that show your work history (W-2s), credit history, and residential history. Then your lender will do an extensive credit and financial background check in order to declare your approved loan amount.
Get a home inspection
Though you can opt to skip this step in some cases, it's smart to know what's inside of your 'perfect home.' Skipping a home inspection could make your offer more appealing to sellers, but when you're about to make one of the biggest investments of your life, you should do your homework. Some issues that arise in home inspections could cost thousands of dollars to repair – which essentially raises the overall price of buying the home. You could get approved for a loan of $400,000 and end up having to make $50,000 in repairs once you move in. Certain issues that home inspections find include mold, foundation cracks, poor insulation, bad roofing, and other costly problems that shouldn't be ignored.
Close on your loan (and celebrate!)
Though you might think your work is finished once you reach closing day, you still have a little bit left you need to do. When you go to your closing, make sure that you bring your IDs and certified cashier's check for your closing costs (if you choose not to roll them into your loan). Then, you will take a final readthrough of all of the documents, sign them, and celebrate!
Finding your dream home is exciting. Many buyers just want to skip to the end and buy the house as fast as possible. However, there are several important steps that help prepare and protect you and your finances when buying a home. Luckily, closings can be facilitated pretty quickly in a competitive market, if you know the steps, and have everything prepared in advance. It's never too early to get started – so stared today by clicking the button above!
Sources: Fox Business, Investopedia